Rhubarb nutrition facts
Rhubarb is arguably one of the most delicious joys of summer and fall, and one of the most anticipated harbingers of spring. Easy to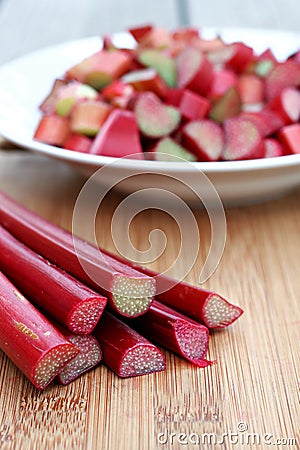 freeze, you can enjoy it while the snow falls, too. Best of all, the slender red and green stalks contain a singular set of nutrients that make it a healthy vegetable.
In fact, we owe a debt of gratitude to ancient Chinese folk medicine for the background work on rhubarb cures and remedies that today's scientist have substantiated and expanded on: fiber for ease in digestion, vitamin K for healthy bone growth and neuron function in the brain, natural antioxidation from vitamins C and A, as well as anti-infection properties, healthy skin, mucous membranes, vision, and potential cancer protection.
Other vitamins, minerals, and phytonutrients in rhubarb, including outstanding amounts of calcium, offer essential support and optimal health benefits throughout the body, making this food much more than just a great dessert.
Health benefits:
Rhubarb is one of the least calorie vegetables. 100 g fresh petioles provide just 21 calories. Nonetheless, it contains some vital phyto-nutrients such as dietary fiber, poly-phenolic anti-oxidants, minerals, and vitamins. Further, its petioles contain no saturated fats or cholesterol.
While many believe milk is the best calcium source, one cup of cooked rhubarb contains just as much, and it's actually much better for you. In fact, rhubarb is on the short list with salmon and spinach for the highest amounts of calcium it provides.
The stalks are rich in several B-complex vitamins such as folates, riboflavin, niacin, vitamin B-6 (pyridoxine), thiamin, and pantothenic acid.
Red color stalks contain more vitamin A than in the green varieties. Further, the stalks also contain small amounts of poly-phenolic flavonoid compounds like β-carotene, zea xanthin, and lutein. These compounds convert to vitamin A inside the body and deliver same protective effects of vitamin A on the body. Vitamin A is a powerful natural anti-oxidant and is required by the body for maintaining the integrity of skin and mucus membranes. It is also an essential vitamin for healthy eye-sight. Research studies suggest that natural foods rich in vitamin A help the body protects against lung and oral cavity cancers.
As in other greens like kale, spinach etc., rhubarb stalks also provide good amounts of vitamin-K. 100 g of fresh stalks provide 29.3 µg or about 24% of daily recommended intake of this vitamin. Vitamin K has a potential role in bone health by promoting osteotrophic (bone formation and strengthening) activity. Adequate vitamin-K levels in the diet help limiting neuronal damage in the brain; thus, has established role in the treatment of Alzheimer's disease.
Its stalks also contain healthy levels of minerals like iron, copper, calcium, potassium, and phosphorus. However, most of these minerals do not absorb into the body as they are subject to chelating into insoluble complexes by oxalic acid, and excreted out from the body.
(nutrition-and-you.com)